[ WELCOME TO ]
---
AR STUDIO
---
AR STUDIO is a collaboration of two opposing perspectives on architecture and offers designs that reflect your identity. Luxury can have many meanings.
In our architecture, we equate luxury with the quality of space and light, the feel of materials and attention to detail, or the craftsmanship that goes into both the design and construction process.
Luxury is when it appears flawless, when you achieve the right balance between all the elements. Understated theatricality - that's what our luxury is all about. A beautiful fusion of materials that make the Space decorative.
---
Read More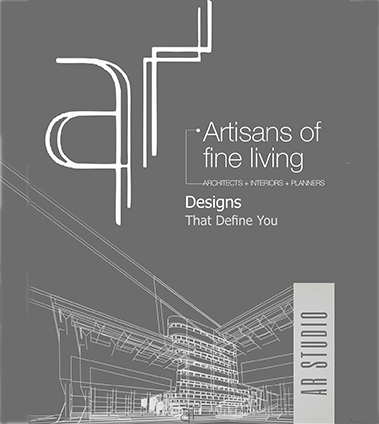 Architecture And Design Services
3D Design And
Visualisation
Interior & Furniture Designing
Contractor And Construction
[ WHAT CAN WE OFFER ]
Our Services
---
---
---

Customer Focus
Customers choose us for the simplicity of communication and an understanding of what is necessary for your space.

Professionalism
We develop a full cycle of project timeline from design phase to execution with all the services included.

Multi Experience
We provide a wide range of services. from designing to turnkey solutions for residential and commercial projects.
Author's Supervision
We develop an attractive and convenient space for work and leisure based on the themes you chose and curating the furniture as per your needs.
Your Dream House
Get your Space redesigned by our creative team which will provide you with state of the art and innovative ideas that will transform your space into your dream home or ideal workspace.
---
Get In Touch
[ TESTIMONIALS ]
What People Say
---
AR STUDIO worked with us to develop plans and layouts to alter the existing flats with minimum tweaks and optimized use of each and every space.
Being a real estate group, we had explored options and ideas on our own but we were delighted when Anshika & Ritika came to us with a solution within two weeks' time which was approved on one go. Their modernistic and luxurious designs approach, which they executed in a very strict budget is commendable.
We recommend AR STUDIO to others so they can benefit from their creative mind-set they put into their work and their priority of fulfilling client's need without compromising on the theme and final product.
Mr. Subhash Chandra
Engaging AR Studio for interior design services have been one of our most fulfilling decisions. These are an extraordinary breed of neo-professionals and their commitment to craft, design, and execution to match our quality standards was exemplary! We highly value their contribution and recommend to everyone in the business of developing lifestyle spaces.
Rahul Pradhan
Marketing Head, MSS Bliss
I have had the opportunity to collaborate with AR STUDIO on a couple of Residential and commercial projects and I highly recommend their services! Their designs are simply stunning and bring together the perfect combination of Natural and contemporary elements.
If you are looking for a skilled architecture company with an eye for style that wows, look no further than AR STUDIO.
Pankaj Jain
Director, MSS Infracon Pvt. Ltd.
Anshika & Ritika have vision, architectural integrity, they listen to the client's needs, desires, budget range and have excellent communication skills. They are a pleasure to work with…We admire them both as professionals and friends.
Our project was a collaboration of their vision and our own desires of how we wanted our office to transform. Because this was a remodel there were some limitations, particularly with the planning of the office but that eventually became a strength because seeing the office now from inside doesn't give a feel that we are in the same space.  Each and every space can accommodate more workstations and still creates a very vibrant and peaceful working environment by the amalgamation of nature inside.
We now believe that best work can be produced only when your workspace is carefully designed and planned. Clean, yet, warm. Great use of space and projection of scale I could go on, but in conclusion, AR STUDIO utilized their talent and listened to what we wanted.
A beautiful combination.
Mr. Alok Khaitan
Black Diamond Resources, Gujarat
---
[ TEAMS ]
Meet Our Founders
---
Ar. Anshika Jain
Co-founder
Ar.Ritika Jhunjhunwala
Co-founder
[ OUR BLOG ]
Read Our Latest News
---